Release notes
August 2020
Here are the highlights of new and updated features for this release:
Revamped user interface

New documentation site

Platform URL changes

Configurable persistent storage size for apps

Prometheus monitoring

New technology version added since April 2020: R 4.0
Revamped user interface
Saagie revamped its user interface to streamline your user experience. The new layout makes it easier to see where you are and to transition from one location to another within Saagie.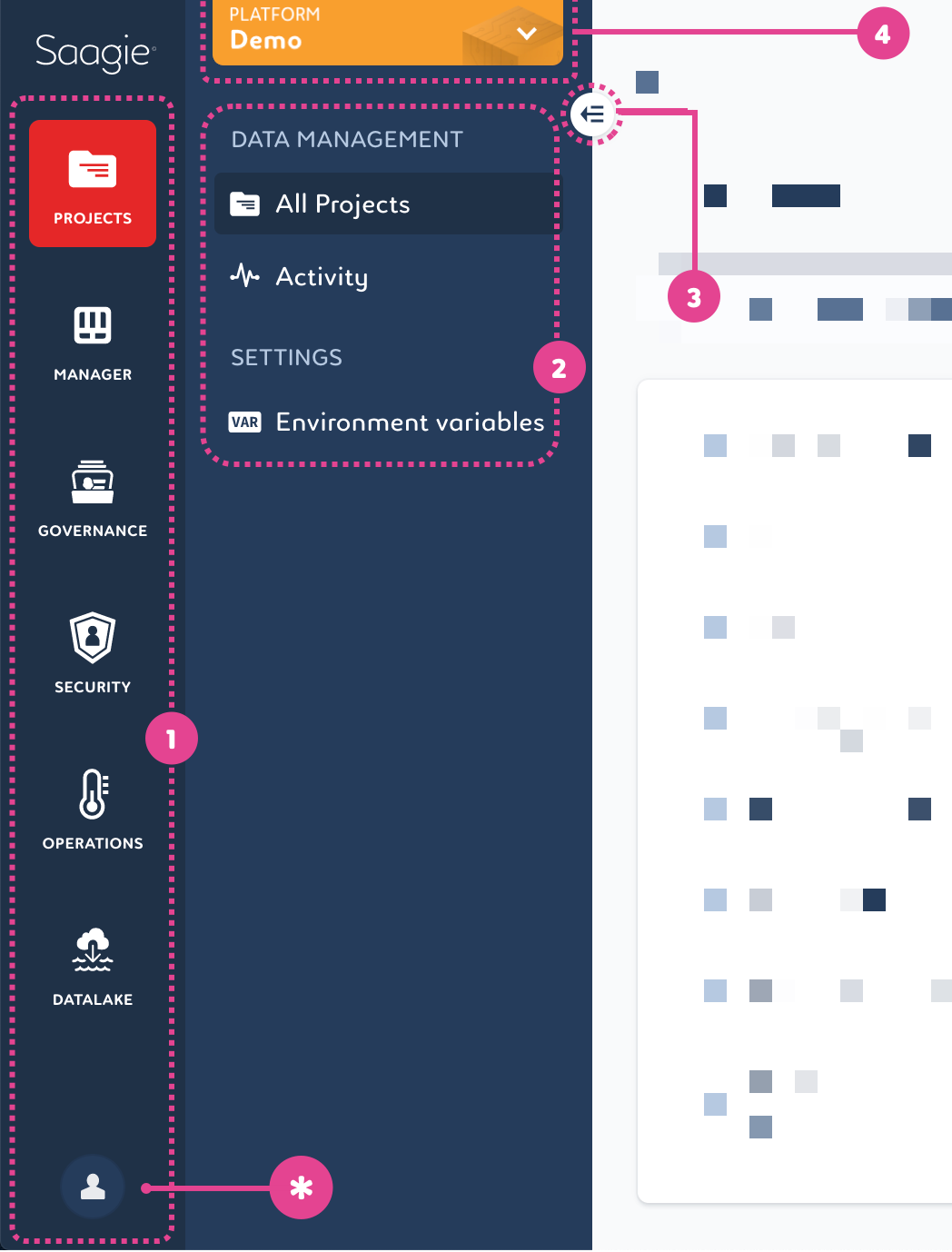 Primary navigation menu

Secondary navigation menu

Button to collapse navigation menus

Platforms menu
| | |
| --- | --- |
| | Access to your user profile is now part of the primary navigation menu. |
New documentation site
We are in the process of migrating all of our documentation to our new site, docs.saagio.io. Hint: you're on it now!
For those who need Legacy or Version 1 documentation, go to Saagie Legacy (Version 1) from this site's primary navigation menu.
| | |
| --- | --- |
| | Keep in mind that V1 documentation is no longer maintained, though we do respond to common questions from time to time. |
Platform URL changes
Now that the Projects module is no longer in beta, the pattern for platform URLs has changed.
URLs must now follow this pattern: prefix-suffix[.subdomain].domain.com. Saagie will contact your platform administrator to perform this change.
Table 1. DNS entry components
Component
Details
Example

prefix
Required

12 characters maximum.
Only letters and numbers are allowed (no hyphens or special characters).

This might be your company name or a shortened version of your company name.

dunder

suffix
Required

For Saagie to function properly, your DNS entry must contain a suffix.

workspace

domain
Required

Company's domain to which your Saagie platform will be connected.

dundermifflin.com

URL: dunder-workspace.dundermifflin.com

subdomain
Optional

Allowed as many subdomains after prefix-suffix as needed or as your company's policy requires.

paper

URL with subdomain: dunder-workspace.paper.dundermifflin.com
Configurable persistent storage size for apps
You can now configure the persistent storage size when creating your apps. Persistent storage stores an app's data between instances.
You can set this value between 64MB and 128MB.
| | |
| --- | --- |
| | Storage size can only be set when creating an app. It cannot be modified later. |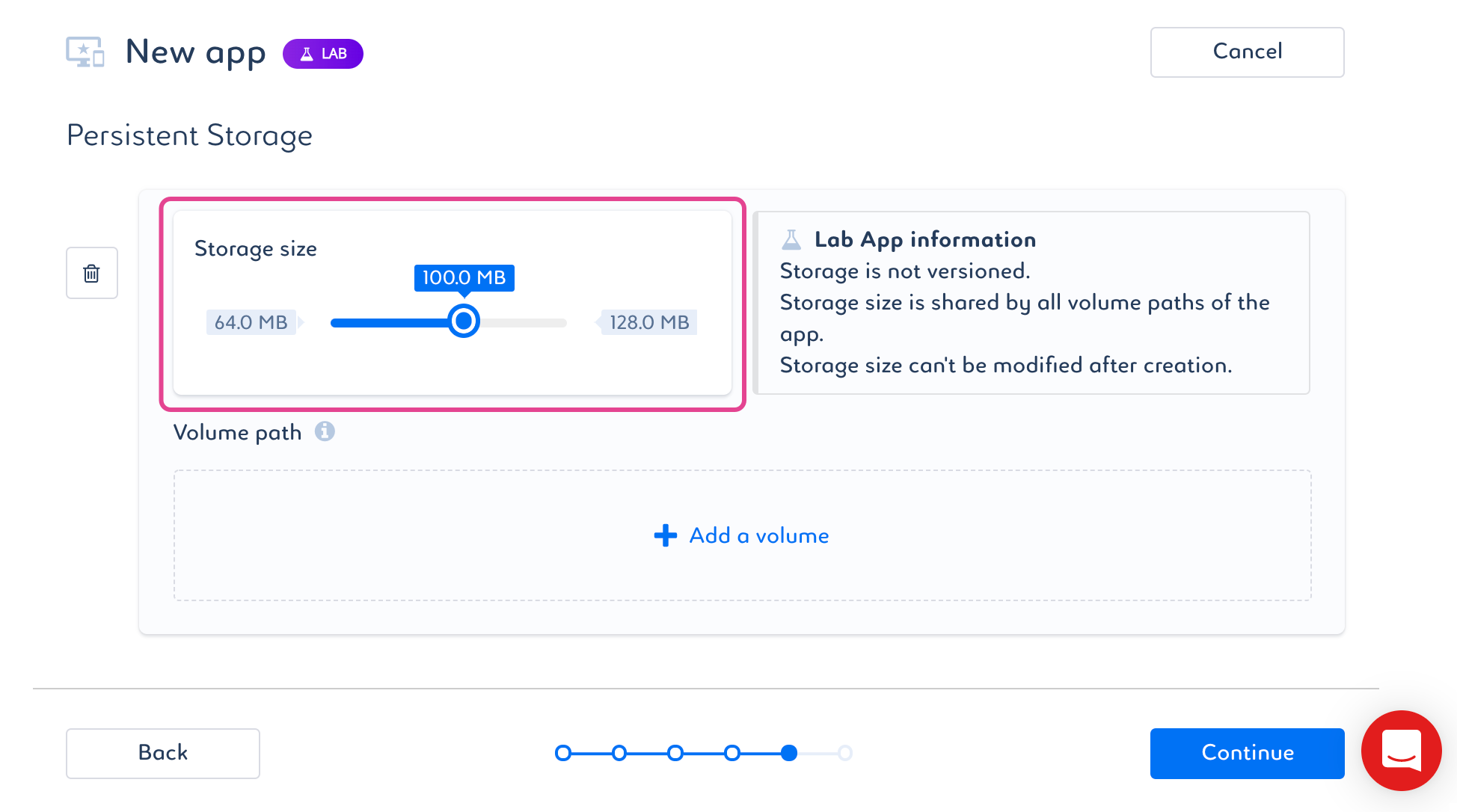 Prometheus monitoring
Users can now monitor various Saagie metrics with Prometheus. These metrics are exposed through Saagie's HTTP API, allowing Ops teams to centralize and visualize them through Prometheus's multiple modes of graphing and dashboarding.
During the Saagie installation process, you can enable or disable this exposure.
March 2020
Improved navigation in projects thanks to a breadcrumb trail and new persistent buttons.

Information about technologies and their integrated versions available at a glance when creating new projects.

New Activity menu to get an overview of the last running instances of jobs and pipelines across a platform.

Ability to run jobs on a GPU for customers with the GPU option enabled.

New technology versions added since January 2020: PySpark 3.7, Spark 2.4.5, R 3.6.2, Python 3.7.
Improved navigation in Projects
The Projects user interface now displays a breadcrumb trail at the top of the screen.

Users can easily keep track of where they are inside a project and quickly go back a few steps, greatly streamlining navigation inside Projects.
In addition, new persistent buttons allow users to easily refresh a job or pipeline status and display their settings.
Technology details when creating a project
When creating a project and selecting technologies to add inside, users can now view a quick description of each technology as well as a list of the framework versions available in Saagie.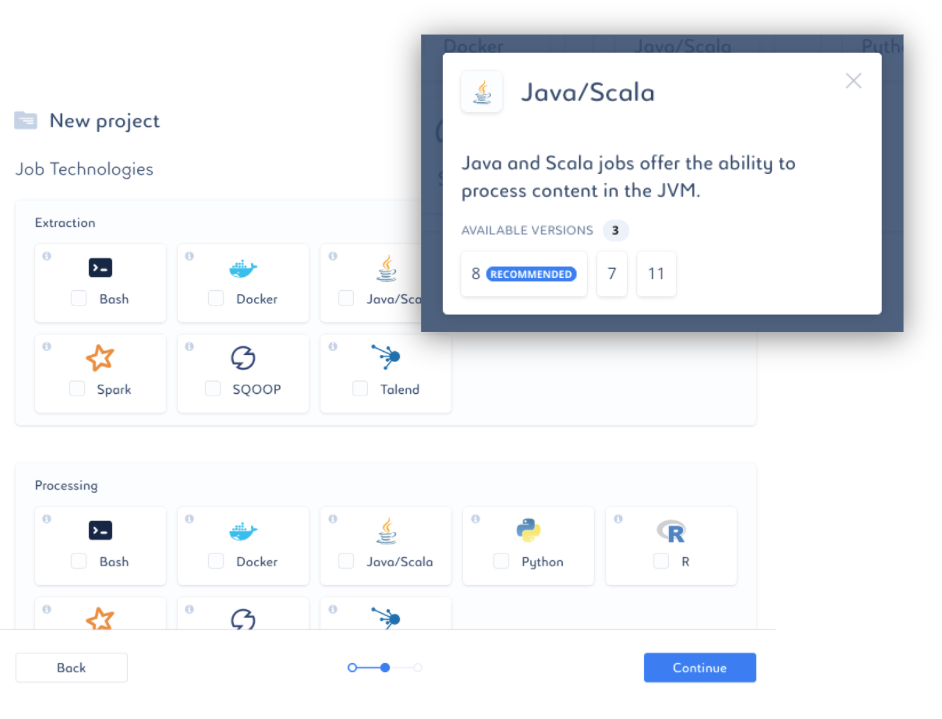 Previously, users could only view available versions once the project was created. This new feature ensures they have all the appropriate information to select the right technologies for their project.
Activity menu
Users can now access an Activity menu to get a quick overview of the last running instances of jobs and pipelines inside each of their projects during the last 12 hours.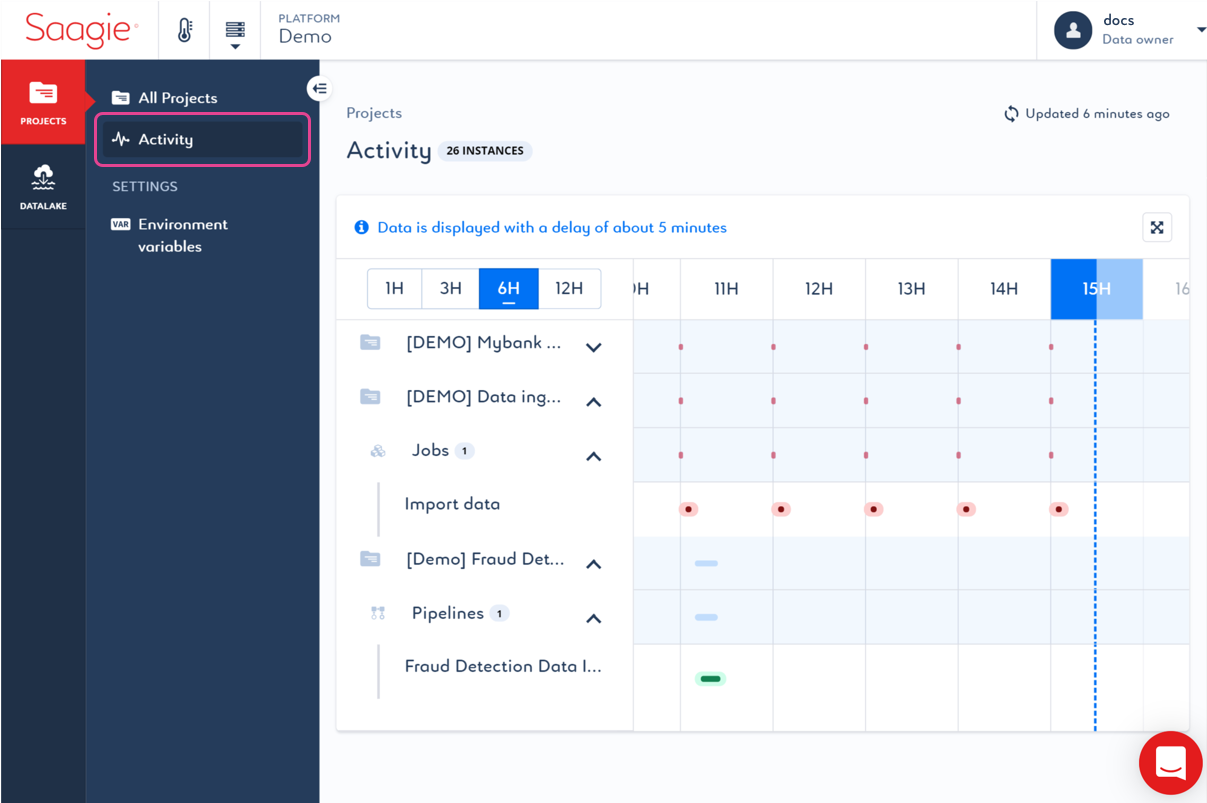 In a production-ready environment, this feature can be really useful to quickly react to failures in the execution of jobs and pipelines, in conjunction with the email alerts which already notify users when a job or pipeline changes status (i.e. goes from "running" to "success" or "failed").
Running jobs on GPU
Customers with the GPU option enabled on their platform can now run Python jobs on a GPU node.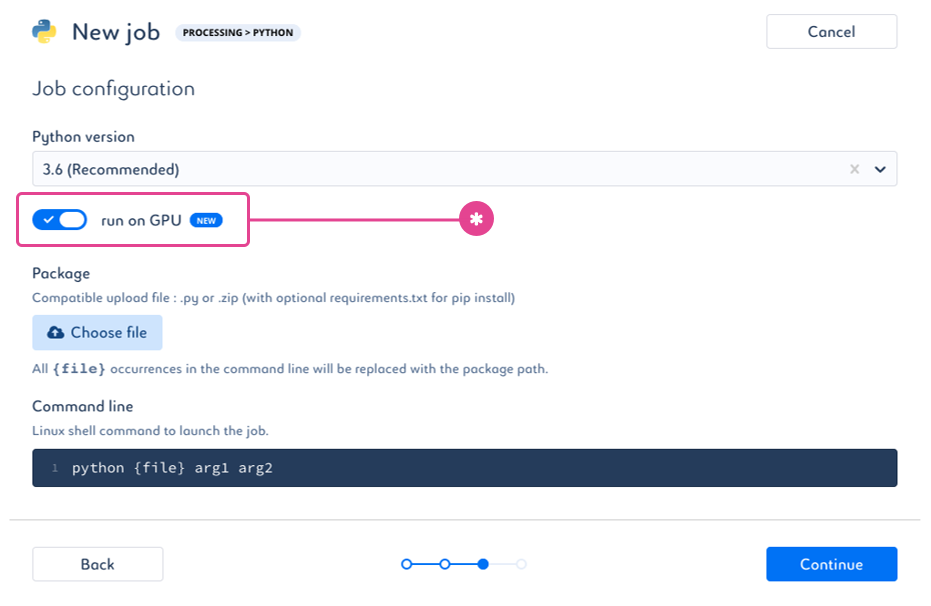 When creating a job, users can select run on GPU and Saagie will automatically allocate GPU resources for this job. This feature is particularly useful for certain types of jobs, like deep learning algorithms for instance, where the use of a GPU can greatly accelerate processing times.